One of my favorite moments as a teacher is when a reluctant reader quietly transforms into an engaged reader through the slow but steady progress a choice reading program fosters.
Allie began the school year as a fake reader. You know the type, eyes darting around the room instead of on the page, opting to complete unfinished classwork rather than choosing to read a book during independent reading time.  When I spoke to her mom at the beginning of the year, she told me, "Yeah, Allie doesn't like reading.  I have a hard time getting her to read at home."
Allie and I would conference about books and about how to fit reading time in at home between travel basketball practices and other commitments.  Still, the process was a slow one. I created book piles of realistic fiction titles with female characters I thought she might like.  She would read 25 pages or so and then leave it behind in the class when she left, not interested enough to take the book with her.
In mid September, I suggested Meg Medina's, Yaqui Delgado Wants to Kick Your Ass, because I had experienced some luck sparking reading joy with it in the past. Jack pot! Allie brought it to and from class, finishing Medina's book in less than two weeks.
There was no fanfare or high five-ing when she finished it.  Allie is cool like that.  She simply slid into the next book I recommended, The Hate You Give by Angie Thomas. THUG took her longer to finish, but she reflected on her progress, "I like the book I'm reading right now. I usually spend a long time reading a certain book because it is a real struggle to find the time to read it. I am most proud of how many books I've read because I've read more books this quarter than the whole last year."
Slow but steady progress.
Next, Allie read The Prey, a dystopian novel by Tom Isbell; however she didn't finish the next two books she started Allegedly by Tiffany Jackson and Amy Reed's, The NoWhere Girls.
Then something happened. Allie finished three books in a row: When You Leave, by Monica Ropal, Poet X, by Elizabeth Acevedo, and Monday's Not Coming by Tiffany Jackson.  Three makes a trend, a reading engagement trend.
Slow but steady progress.
Allie leaned on me heavily for book suggestions, which is great, but not sustainable, since she would be headed to high school in the fall.  Donalyn Miller talks about the importance of developing a reading habit in her book, Reading in the Wild. She points out the importance of selecting books to read, independently.  If students don't establish lifelong reading habits before they leave the classroom, students like Allie will stop reading as soon as I'm not around to recommend books to them.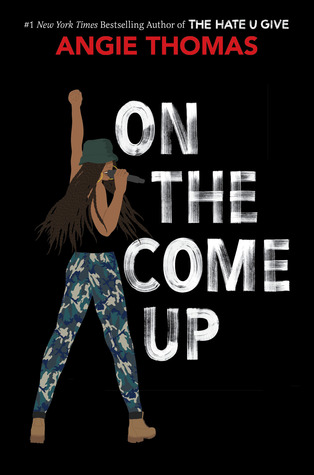 At the end of last week,  I noticed Allie was reading a new book. One I hadn't recommended or even book talked. Its crisp, clean jacket cover suggested she had recently purchased it at the book store.
Today was the first time we've had time to read in class this week. Allie, who was deeply engrossed in On the Come Up which is about a girl trying to make it as a rapper, had already read 300 of 464 pages. What!?!
Slow but steady progress.
Sometimes miracles happen quietly in our classrooms.  Allie's reading identity has evolved from "reluctant reader" to "engaged reader" and is showing signs she might even be a "lifelong reader."
Slow but steady progress.